Before Olivia was born we were given the book called
God Gave Us You
and since then I have given this book as a gift to other people. I cry every time I read it for two reasons-1. I'm a dork and cry all the time and 2. I just like the author's word choice.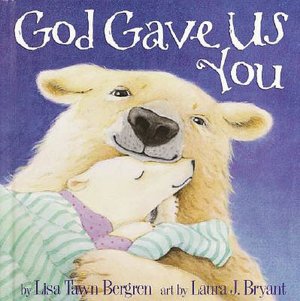 I was reading a blog and come across a book I've never seen before today. It's called
God Found Us You.
We are definitely going to get this book for our little boy. I can't wait to read it to him!
This morning we took Olivia to the store to do something special. I know it may sound silly to you, but we were excited to take Olivia to the store to pick out a blanket for her baby brother. When we receive our referral (match) we want to send a care package to him immediately. We are going to include his blanket and a picture album of our family. Olivia has been talking about picking out a blanket for her brother, so we decided to go as a family today. On the way home she was snuggling with it and then asked to sleep with "my baby brother's blanket." We also had a great conversation on the way home which started with Olivia asking us, "Is God in Ethiopia?" I've mentioned numerous times before that we tell Olivia that God is going to bring baby brother to us. So, of course it makes sense for her to ask us if God is there right now. My sweet little girl can't stop talking about her brother. She keeps asking us where he is right now and why he isn't with us. I can't help but to wonder those things too!:)